TicklishGirls Video
Daisy is the new chick this week, and she's a good one.&amp,nbsp, She is actually the friend that Anna brought to the shoot, and I'm happy that she did!&amp,nbsp, Sometimes I feel like I got lucky, and this is one of those times. Daisy is 20 years old, and she is one of those girl next door types that everyone would like.&amp,nbsp, I don't know what exactly it is, but there's just something about this girl, I really like her a lot. Hey guys, if you're here, it's because you want to read my diary. Daisy just watched her friend Anna get tickle tortured, and she sort of already knew what to expect.&amp,nbsp, But here's the thing.&amp,nbsp, Daisy is definitely more ticklish.&amp,nbsp, She takes care of her feet a lot better, and she's more ticklish as a result of it. I have her laughing a lot right from the start, and I instantly knew this was going to go great.&amp,nbsp, I don't waste much time, as I quickly get her feet toetied and her soles baby oiled up.&amp,nbsp, The massagers and the hairbrush on her soles are making her laugh and squirm a lot, and the electric toothbrush between her toes is getting her to giggle.&amp,nbsp, I have fun tickling her feet for a while, but Daisy is squirming around so much and pulling so hard, that I had to adjust the stocks and pull them out a little.&amp,nbsp, These girls must work out together or something, because they are strong!&amp,nbsp, When I was less than half way through the scene, I kept wondering if this girl was going to come back or not, so I had to start tickling her upper body.&amp,nbsp, It's good that I had her arms tied above her head, because this was really starting to turn into a lot of fun.&amp,nbsp, Daisy is really a hottie, and she is super ticklish everywhere on her upperbody too.&amp,nbsp, Her sides and her underarms are making her laugh and thrash around so much that I was worried she may hurt herself.&amp,nbsp, This is the first time I've thought that I may need to add a seatbelt to the tickle chair.&amp,nbsp, I wish I could work with these two girls more, but it doesn't look like either one of them wants to come back.&amp,nbsp, Even with my wonderfully charming personality, I wasn't able to convince either of these girls to try the tickle table.
TicklishGirls Video MediaInfo
Production studio
: TicklishGirls
File Name
: Daisy in the Tickle Chair UNCUT
File Size
: 524.09 MB
Price
:
$34.99
BUY PREMIUM and WATCH NEW TICKLING VIDEOS EVERYDAY
Resolution
: 1920×1080
Duration
: 00:29:57
Video
: AVC, 2 342 kb/s, 30.000 FPS
Audio
: AAC, 91.8 kb/s (VBR), 44.1 kHz, 2 channels, 1 stream
Genre
: TicklishGirls,VIP Clips,HD,m/f,Tickling Feet,Tickling Upper Body
Tickling video screenlist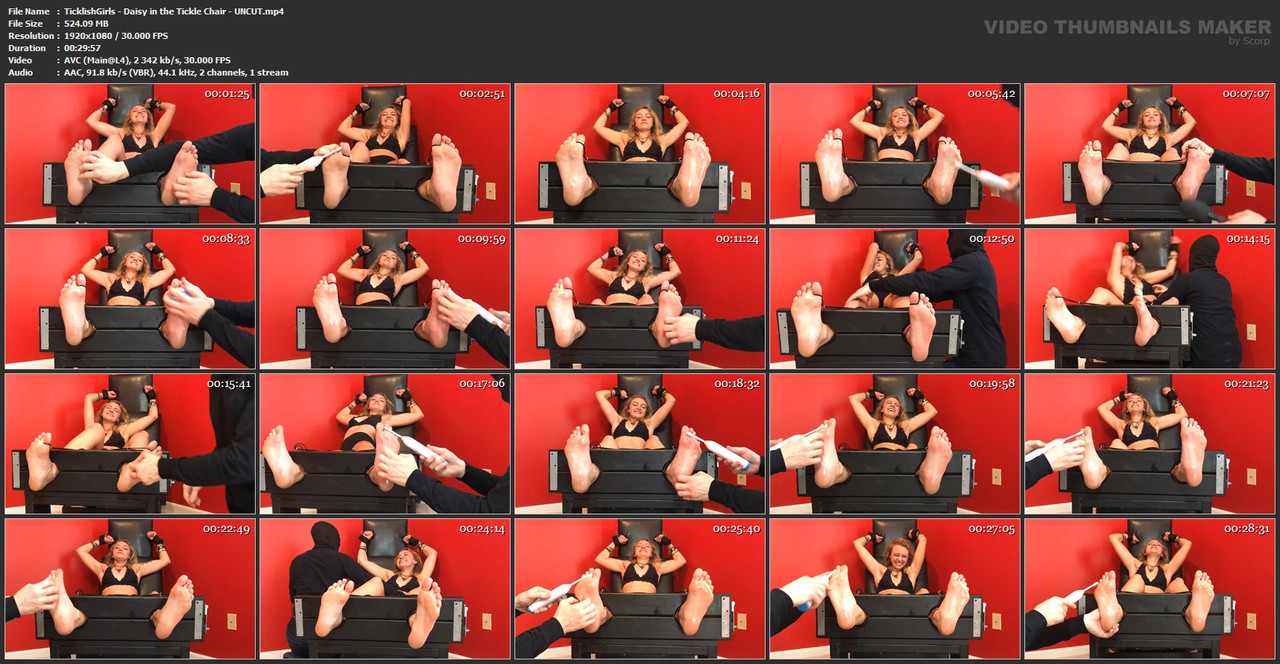 Want more tickling porn experience?
Download or watch online tickling videos